Sweetback Sisters Christmas Sing-Along Spectacular: A Benefit for the Christmas Tree Santas
Christmas caroling has never been this much fun!
Join us Mon, December 16, 2019 at the historic Firehouse Center for the Arts in Newburyport, Mass. for our SIXTH-annual fundraising concert:  The Christmas Sing-Along Spectacular featuring The Sweetback Sisters.
The Sisters—Emily Miller and Zara Bode—aren't, in fact, blood relatives, but their tightly-knit harmonies recall some of music's most memorable family duos, like the Everlys and the Judds. Their joyous Christmas show started nine years ago as a bit of a lark for a few friends and loyal fans, but a CD of holiday music soon followed, and their seasonal sing-alongs are now an annual touring tradition for the band.
With a set list that includes timeless Christmas carols and contemporary classics, like "Rockin' Around the Christmas Tree," the Sisters raucously rev up some seasonal favorites and reverently harmonize on others. Lyric sheets for the audience let everyone join in the fun. It's a show the Boston Globe calls "festive… the perfect balance of sass, sincerity and swing."
Outside of their Christmas gigs, the Sisters play a brand of country swing and honky-tonk that is as infectious as it is heartbreaking. The band has toured extensively throughout the U.S., including a 2012 showcase appearance at the South by Southwest Music Festival (SXSW), and has five critically-acclaimed releases on the Signature Sounds label of Northampton, MA.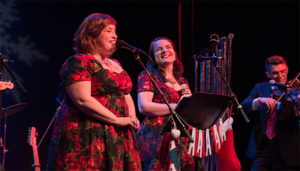 Proceeds from the show benefit the Christmas Tree Santas.
Acclaim for the Sweetback Sisters

"Americana darlings with a roadhouse edge." -NPR
"This zingy group is simultaneously reverent of tradition and contemporaneously cheeky." -The Boston Globe
"Zara Bode and Emily Miller layer gorgeous girl-on-girl harmonies over swell honky-tonk melodies. Trust us, these guys are brilliant." -NBC New York

See pictures from our 2016 show 
See pictures from our 2015 show
See pictures from our 2014 show