We are thrilled to host our second annual Christmas Singalong Spectacular on Dec 21 at the Firehouse Center for the Arts, Newburyport, MA, featuring the Sweetback Sisters. Proceeds from the event, which includes a reception and silent auction, benefit the Santas!
Christmas caroling has never been this much fun. The Sweetback Sisters, as heard on NPR and A Prairie Home Companion, add their honeysweet voices, backed by their rollicking roadhouse band, to a wide-ranging program of holiday music. Lyric sheets for the audience let everyone participate in the fun.
With a set list that includes timeless Christmas carols and contemporary classics, like "Rockin' Around the Christmas Tree," the Sisters raucously rev up some seasonal favorites and reverently harmonize on others. It's a show the Boston Globe calls "festive… the perfect balance of sass, sincerity and swing."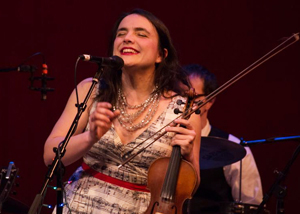 Lead vocalists Emily Miller and Zara Bode aren't, in fact, blood relatives, but their tightly-knit harmonies recall some of music's most memorable family duos, like the Everlys and the Judds. Their joyous Christmas show started several ago as a lark for a few friends and loyal fans, but a CD of holiday music soon followed, and their seasonal sing-alongs are now an annual touring tradition for the band.
Outside of their Christmas gigs, the Sisters play a brand of country swing and honky-tonk that is as infectious as it is heartbreaking. The band has toured extensively throughout the U.S., including a 2012 showcase appearance at the South by Southwest Music Festival (SXSW), and has five critically-acclaimed releases on the Signature Sounds label of Northampton, MA.
This show will sell out, so get your seats asap. Can't wait to see you there!